Spring into a New Season with a Bathroom Refresh
What comes to mind when you think of Spring? Fresh greenery, colorful flowers, nature and lots of warm sunshine? This sense of new energy and vibrancy is something you will appreciate daily, and thus an ideal inspiration for your home decor.
One of the most often overlooked spaces in the home is also possibly one of the easiest and most affordable to decorate – yes you are right, it's the bathroom. Refreshing your bathroom does not need to be a hassle. To inject your bathroom with the lightness and freshness of springtime, here are four simple things you can do.

1) Greenery
If you are the kind of person with green fingers, decorating your shelves with plants could be a simple, and obvious way to add a little bit of springtime to your bathroom decor. All it takes is a quick trip to your nearby nursery to pick up a few plants and you will be sprucing up your bathroom in no time at all.
On the other hand, if you are impeded by a lack of green fingers, don't fret just yet. There are plants that are not as finicky, and we do not just mean cactuses. Consider tropical plants like pothos, air plants (no soil needed!), and ferns – they grow well in your bathroom even with the humidity and lack of sunlight. Plus, how adorable will these miniature trees look on your windowsill?
2) Textured Bathroom Furniture
It is easy for the bathroom to be written off as a purely utilitarian part of the house, especially when decked out in cold metal towel racks and plastic bathroom stools. The trick is to add a little texture with simple things like a wooden toothbrush holder, or a wicker basket to hold your soap or plants, and you might find your bathroom softens into a much warmer and more inviting space. A rustic-looking ladder made of reclaimed wood will not only make a lovely addition to your bathroom, but you could give it a new lease of life as a towel or magazine rack.
3) Spring Scents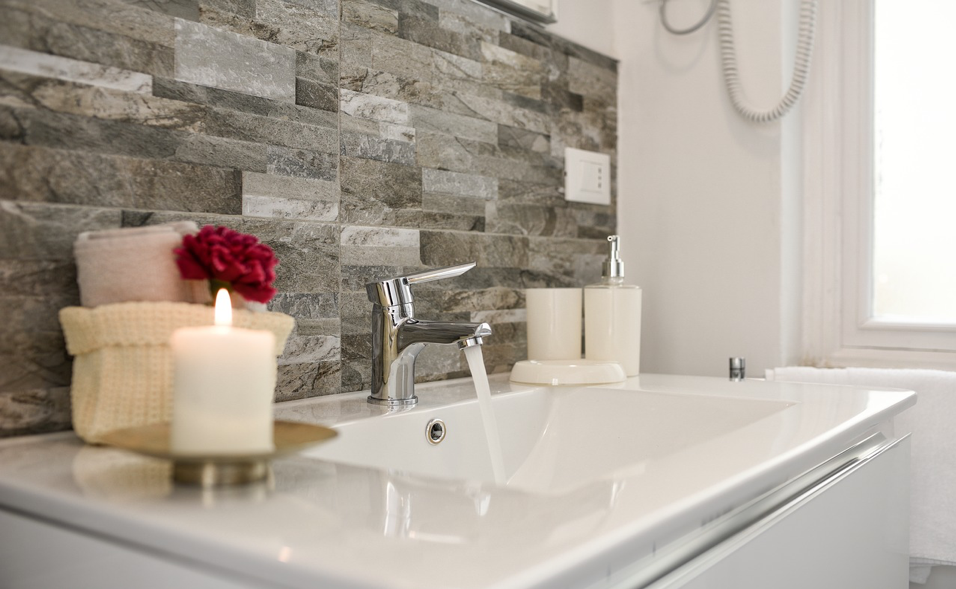 When it comes to jazzing up a space, you may tend to forget that smells play a significant role in setting a particular ambience. For springtime freshness, go for candles with fragrances of freshly mowed lawns, citrus fruits, or flower gardens that will surely help cover any unpleasant bathroom odors.
And if scented candles are too overwhelming for you, consider picking a subtle soap which will work wonders too.
4) Wall Colors
It's pretty common sense that colors can drastically alter the vibe of any room. A bright lime green color for instance will definitely hit you over the head with the vibrancy and energy of springtime, whereas a unique shade of blue like periwinkle gives a similar vibe of inspiring calmness and serenity.
Whether you're going as far as repainting a wall or doing something as simple as buying a few potted plants, there are many ways to inject the spirit of Spring into your bathroom. After all, these small changes could go a long way in lifting the spirits and adding an extra perk to your bathroom experience.