Top 5 Must-Haves for a Dream Destination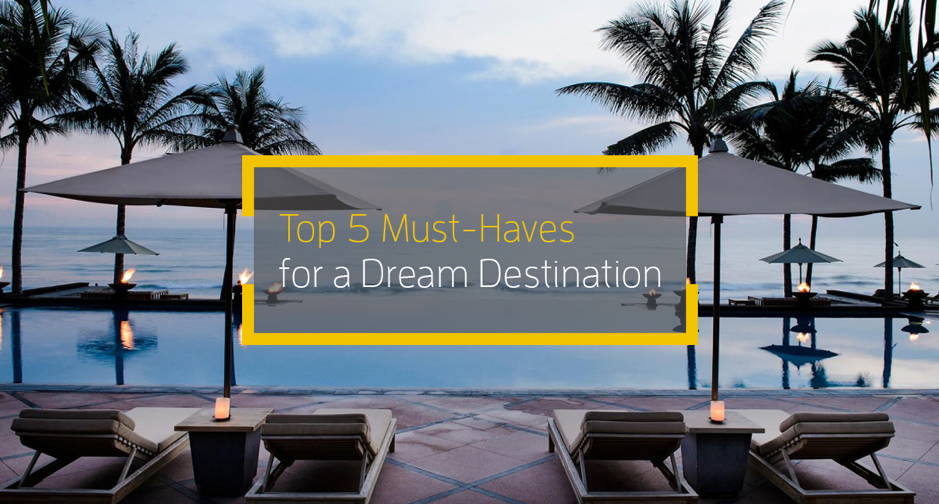 We all get bitten by the travel bug, but not everyone has the same definition of a dream travel destination. Conquering a mountain's summit in the Everest may be a dream destination for some, while enjoying the sun, sand and sea on a hammock in Maldives may be paradise for another. Then again, sometimes, the most unusual experience can make the best travel memory.
Will your dream destination have the idyllic sun, sea or sand? Or lots of shopping?
Perhaps a Spa? Or maybe a Spalet?
Breath-taking Nature Landscapes
If you consider yourself a shutterbug or a fan of Instagram-worthy places, then visiting remarkable natural landscapes has got to be your travel dream come true. Meandering through a vast plantation presents a golden opportunity to capture a vivid burst of colours, while island hopping may provide quality photos of the great blue ocean.
Diverse food options
The best thing about travel is the chance to taste the smorgasbord of unique local delicacies. If all you can think about is uncovering yet another foodie's paradise, book a flight to places where the food culture is rich.
Culture
Every city has its unique culture. Getting to learn and live it is some people's travel dream. For example, the Japanese are known to be some of the most cordial and courteous locals, and most will agree that the country fits into traveller's high standards of cleanliness, with a rich heritage and interesting cultural rituals.
Spa
Perhaps a spa getaway is all we need and if a destination provides that, it is a dream come true. Knead tired muscles and put fatigue out of both mind and body.
A Spalet
Be it a relaxing staycation or an exciting overseas adventure, hotels and alternative accommodations have amazingly tech-forward amenities that may change your definition of a dream destination.
Most hotels today use smart bathroom wares, like the Spalet range of products from American Standard – to provide guests with comfort, hygiene and convenience.
If you haven't experienced the simple pleasures of a seamless bathroom experience that a Spalet brings, visit a destination or accommodation that has one.

Here's a chance for you to visit a Dream Spalet Destination of your vote.

Simply vote for your favourite dream destination on our website www.ilovespalet.com from 14 May – 3 June and stand a chance to win a *3D2N stay for two at the winning Hotel project!
* Visit www.ilovespalet.com for more details and terms and conditions.